Review – Transformers Bombshock and the Iron Army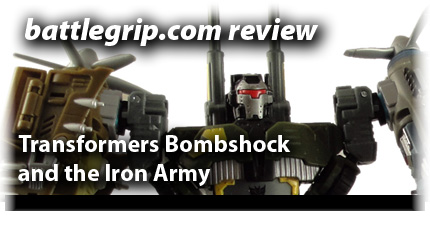 As we go into the final hours of the Transforming Collections project (Kickstarter page) I wanted to be sure to get the pics of the official Transformers PCC Bombshock* combined with the Iron Army toys — Iron Army T-34 vs J7 Shinden review here, Iron Army Tiger vs P-51 Mustang review here — online for everyone to enjoy.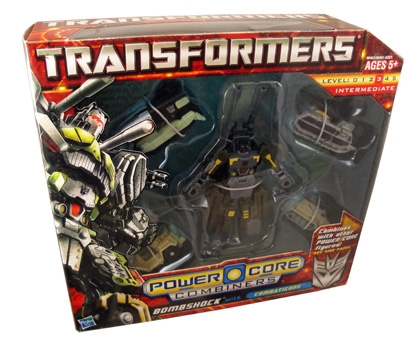 Size Comparison
The photos show the official transforming drones next to the third party Transformers Iron Army toys in their vehicle modes. As you can see, the Iron Army toys are quite a bit bigger; this does have a significant effect on the size of the combined robot, with the Iron Army-enhanced PCC Bombshock* much larger than the version equipped with the official drones.

And while the official Power Core Combiner drone idea was a great concept, the execution was a bit weak and after playing with the Iron Army vehicles and robots I hope that Hasbro comes back to the PCC concept and improves on it; the auto-transforming gimmick would have been far cooler if the drones had transformed into robots and not just into limbs.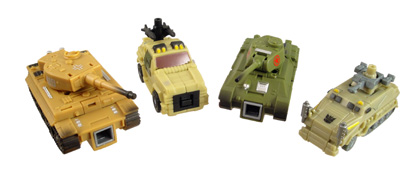 Not a Perfect Blend
Below you can see pics of the PCC Bombshock* combined with the Iron Army toys, and in my opinion these toys don't work together perfectly. The Iron Army toys attach cleanly and function, and they do make the toy look better than when just using the drones, but the bulk of the Iron Army robots in limb mode really highlight how thin and weak Bombshock looks.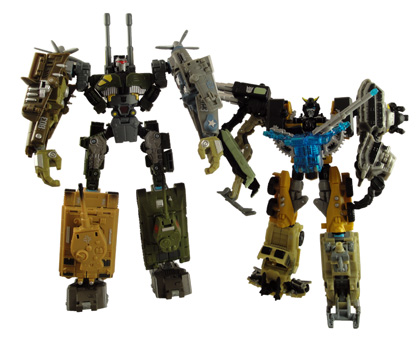 TFC Toys does have a replacement for Bombshock in the works (posted at Transforming Collections) so that will help things, but once I get the fifth Iron Army robot 'ol Bombshock here won't have much of a purpose any more. Poor guy. But, as I said, he just looks too thin next to the Iron Army robots.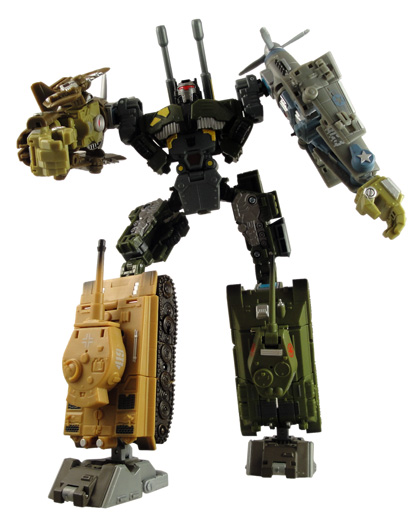 Huffer Helps Out
In the comparison shots shown here I used the Power Core Combiner Huffer (review here), a toy I wasn't all that excited about. And while I am a bit more impressed with the Power Core Combiner concept now than I was at the time they were released I'm not so excited that I'm upset that I didn't buy a bunch of the toys. Something about the line is just off for me.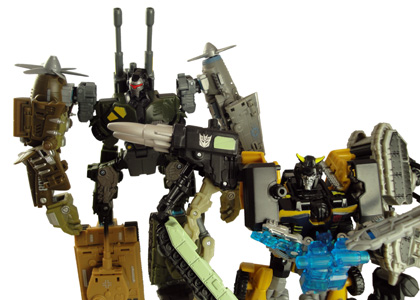 Closing Thoughts
For now the Iron Army robots will be displayed on my shelf as limbs for the PCC Bombshock* toy. But as soon as I can get the fifth Iron Army robot that's going to change; and it's at that point that I'll have a WWII Bruticus toy for my shelves.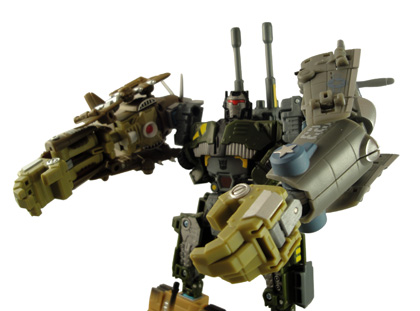 ---
Philip Reed should mention how the Iron Army hands and feet are parts that you have to attach to the robots to turn them into limbs.