Review – War in Pocket: Speedoo and Guartinel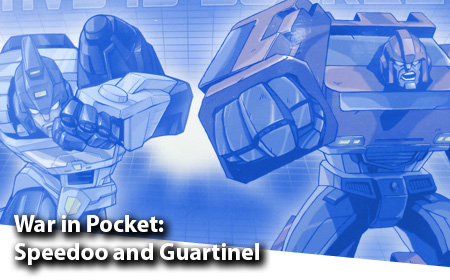 I am torn on scale when it comes to Transformers toys. I have written before about how the toys not being to scale with each other drives me insane — see "My Biggest Complaint With Transformers Toys Starts in 1984" — but I must admit that the various scales does allow manufacturers to offer toys at a wide variety of price points. With popular characters like Bumblebee and Optimus Prime offered anywhere from $5 to $100 and up there's a design for every bank account. That's kinda sorta neat, and it's that acceptance of scale (or lack of) that has allowed third party maker DX9 Toys to produce these two little robots.

War in Pocket
Falling into what the official Transformers toys usually call "Legends Class" (Amazon.com search*), these unofficial toys surprised me when I first saw them in person. I was originally going to pass on this two-pack — $40 for two Legends-scale toys?!?!? — but then at a Transformers meet in Austin I got a close look at the toys and was immediately impressed with the quality of the designs.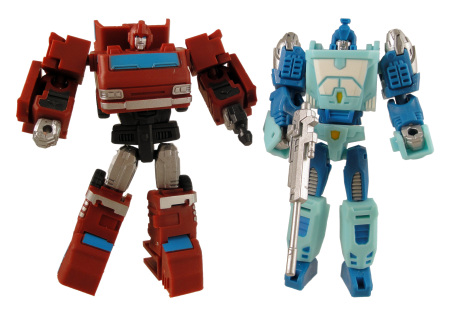 These two completely unofficial Ironhide and Blurr toys each stand about 3.5-inches tall and are made of quality plastic. With mostly ball-jointed articulation points they are also very easy to snap back together if something comes loose and I can recommend both. Of course you can keep reading if you want to know more, or you're now free to leave since you've already looked at all of the pics and now have my basic thought: Oh. Neat!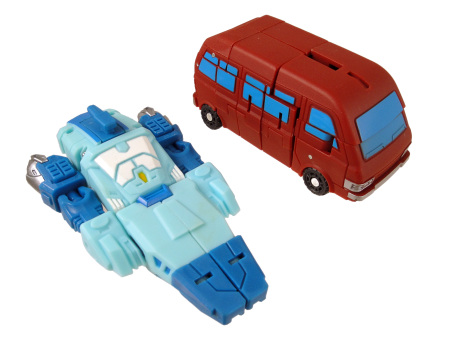 Speedoo
First thing is to get the only flaw with this War in Pocket set out of the way. Not-Blurr's rifle has a post/handle that's too big!!! I about ripped the handle to shreds trying to remove it from the toy's hand and I'm worried that if I try this too many more times the rifle's handle will be a mass of plastic ribbons. Either the post is too big or the hole too small — no snickering in the back of the class! — but either way something is wrong. If you get this set be very careful with this accessory.

Anyway, as I mentioned the toy uses lots of ball joints. How many? Well, let's look at the limb by limb breakdown of the design:
Head – Ball joint.

Arms – Ball-jointed elbows and shoulders.

Legs – Ball-jointed hips, knees, and ankles.

Torso – Swivel waist.
Yeah, that's pretty good articulation for this little guy.
The paintwork and sculpt on Speedoo are both excellent, and more importantly is that the toy just feels great in hand. The transformation process is pretty straightforward — see reviewer Peaugh's video review for a look at the transformation — and other than the weapon everything about this not-Blurr is excellent.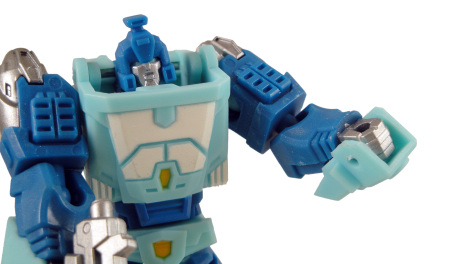 Guartinel
The unofficial Ironhide is equally awesome, with a Generation One-like look that makes me wonder when we'll see DX9 Toys retool and release this as Ratchet. Seriously, I'd totally buy this as a Ratchet toy because the look and transformation design of Guartinel is fabulous.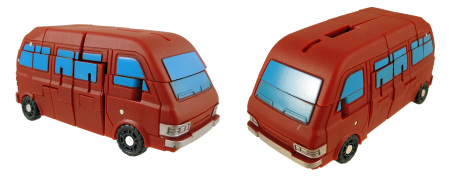 Hidden Pistols!
There's a photo review of these two over at TFW2005 where the reviewer states:
"You get a rifle of sorts for Speedoo but nothing for Guartinel – or so I thought."
You see, not-Ironhide has two pistols hiding inside his heels. It's a great trick and I do love when designers find clever ways to conceal accessories within the toy. I'm certainly happy enough with "partsforming" toys — after all, I do have an entire Marchon Road Bots category here at battlegrip.com — but I can also appreciate a cool design like this.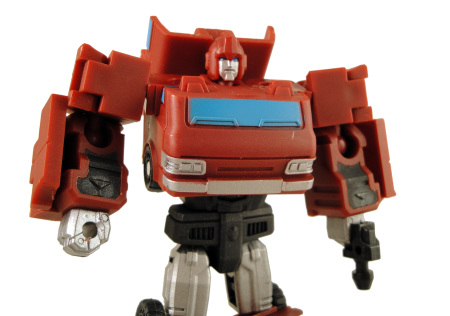 Jumping into the toy's articulation we find:
Head – Ball-jointed neck.

Arms – Ball-jointed shoulders and elbows.

Legs – Ball-jointed hips, elbows, and ankles.

Torso – Swivel waist.
Now the head and feet articulation is really limited, but overall this again feels like a fun little toy with a lot of poseability and a fantastic design.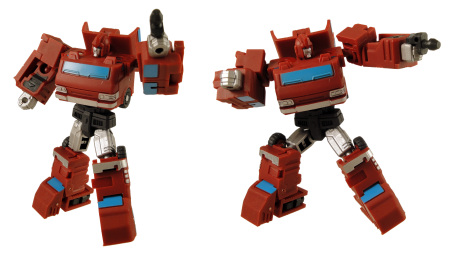 Closing Thoughts
The War in Pocket set of Speedoo and Guartinel — despite the not-Blurr toy's rifle problem — is a great first entry in a new series of third party toys and I'm looking forward to seeing more of these releases. These two may be tiny, but with fun transformation designs and high-quality plastic and paintwork they're absolutely worth trying out if you're interested in them at all.
And one last pic because I could, this one showing Speedoo beside Maketoys' Bomber (review here) from a few years ago. Enjoy the pics and have a great day, gang!