Review – X Transbots Glider and Wild Child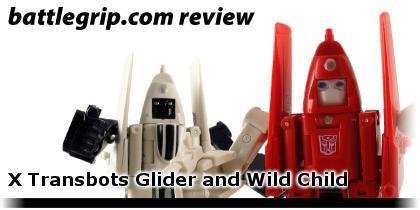 When Robot Kingdom posted the X Transbots Glider and Wild Child toys for pre-order (mentioned here) I decided to take a chance on these latest unofficial Transformers toys and ordered both of them. And wow am I glad that I took that chance. Even with its flaws I think this toy has immediately become my favorite unofficial Transformers toy of the year. I popped the boxes open yesterday and spent the day transforming and playing with Wild Child . . . and had so much fun that today Glider is going to work with me.
But first, before I head off to the office, the review!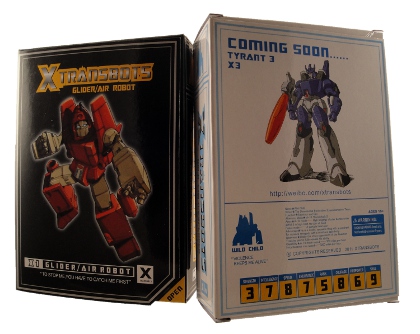 Packaging
The X Transbots Glider and Wild Child share similar packaging, seen above, that is attractive but now as durable as I would have liked. The front flaps open to reveal the toys in plane mode and the basic design of the box is okay. The biggest problems is that the artwork is low-res in spots and the glue is separating in places; basically, the boxes are falling apart. It's a good try, but the boxes really aren't as professionally-designed and produced as I like to see.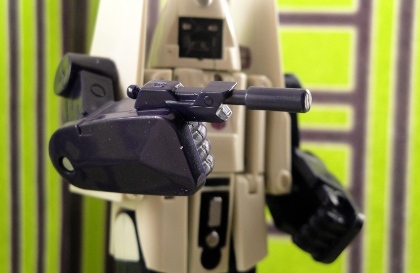 Eighties Design Values
Just about the first thing Gina said when she saw Wild Child at dinner last night was that it feels like an older Transformers toy. And she's absolutely right. The toy's plane and robot modes are very similar to the classic Transformers Powerglide that the toy is based on and replicates the asthetic values of eighties Transformers toys without being an exact copy of the older toy (the transformation is dramatically different in spots).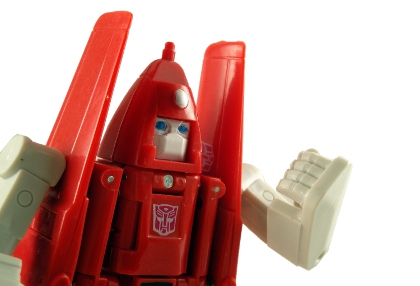 Playing with this guy I feel like this is what I want to see from Hasbro when it comes to Generation One-styled designs. I've been loving the Transformers Generations series, but even with horrible instructions I was able to transform Wild Child a lot easier than I was Reveal the Shield Perceptor (review here). But maybe I'm a minority when it comes to Transformers fans and most people won't like Wild Child and Glider.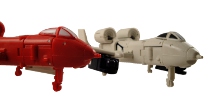 The Bad
I want to say again that I absolutely love the design of this toy. Please keep that in mind as I cover the flaws, because as you read these it's going to sound as if I'm totally trashing the toy. It's not that I hate it, though, but that I want to very clearly cover the problems since I am basically going to close by telling everyone to order one of these today. Okay, let's get into the bad:
Scratches on the Nose – It's a lot more noticeable on Wild Child than it is on Glider, but there appears to be an actual flaw in the mold. Both toys have scratch marks in the same location on the nosecone and it's a weird mistake to see. I guess something wasn't sanded and polished as much as it should have been.

Rough Spots – Wild Child and Glider both have some really rough spots here and there where the plastic was separated from sprues. It's so bad that Glider's pistol still has a huge chunk of the sprue right on it which is preventing the gun from being stored in the body when it's in plane mode.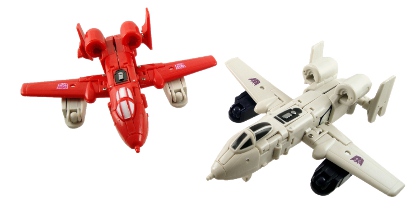 Landing Gear Problems – On both toys the front landing gear is really tight and a pain to use, while on Glider the landing gear on both wings is too loose and floppy.

Terrible Instructions – It took staring at photos, flipping pieces around, and even the help of Sam at the office before I figured out how to transform this guy. It's so bad, in fact, that I almost resorted to trying to find a video review. But in the end I've got him down and can change him between modes quickly and without any fiddly bits.

Splotchy Paint Spots – Not everywhere, but there are some specks here and there that aren't attractive. If you look at the close shots of Wild Child's face you can see some dark splotches on the white under his face. Ugly!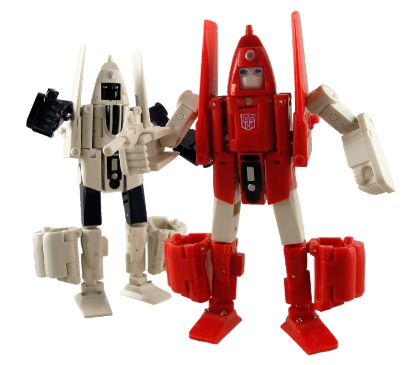 But that really covers all of my complaints with the toy so let's get onto the fun part. Namely, this is where I'm gonna ramble on about how much fun the toy is and why I like it better than the other unofficial Transformers toys I've bought this year . . . and maybe even ever.
Great Size
Not small like the original Powerglide and not giant like the Transformers Universe Powerglide* of a few years ago I love that this guy is basically the same scale as Transformers Deluxe toys of today. At just over 5-inches tall in robot mode he feels good in hand and is still small enough that I can fit him in my jacket pocket.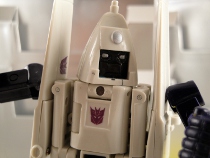 And He's Pretty Durable
The plastic feels tough and excellent — not like some of the KO toys I've bought — and the only issue I've had so far is that the arm will sometimes pop off when I transform the toy or play with it too hard. But since it's a ball joint I've had no problems popping the arm right back in place so this is minor. Overall he feels sturdy and ready for a fight.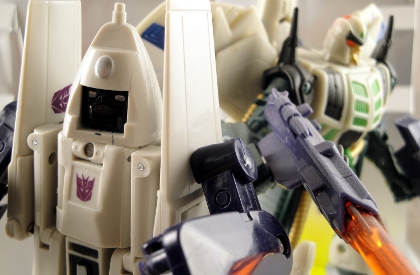 Fun!
And this is probably the most important reason why I think everyone needs to grab one of these toys for their collection. Since I'm not too stupid to transform him and since he is fairly tough I've had no problems at all playing with both Glider and Wild Child. That combined with that classic Transformers design sense has me just loving these little guys . . . so much so that now I want the Cobra Rattler-inspired variant that's out there. This really is one hell of a fun toy and I need to take a look at some other releases from this company.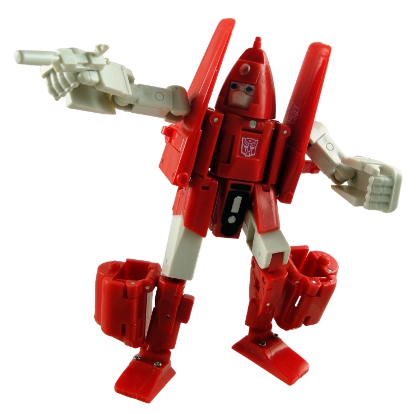 Where to Find Him
As I mentioned I ordered mine from Robot Kingdom but you can also find these toys at KO Toys and TFSource. I've ordered from all three sites before and have never had problems. I'm trying to place an order at KO Toys for the Hothouse Decepticon and Kobra Power Rat variants but their site is sending me to a Chinese Paypal so I've e-mailed them for help with paying through US Paypal so at the moment I'm not sure how KO Toys orders work (the last time I ordered from them it went to they sent me an invoice). But the other two sites work with US Paypal without problems.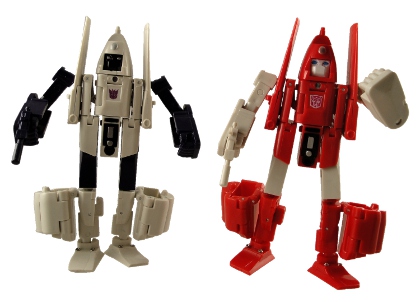 Closing Thoughts
Seriously, this is a hell of a fun toy. If you're a classic Transformers fan and don't mind spending roughly $40 to $50 on a single Transformers toy of this size then grab it now. And if that price feels to high for your tastes then I suggest taking advantage of the season and telling everyone on the planet that you want one of these for Christmas. I know I am going to be showing these to everyone who comes over and I fully expect more people to want this toy as it gets into more hands.
A great job and I'm now ready to look at more work from this company.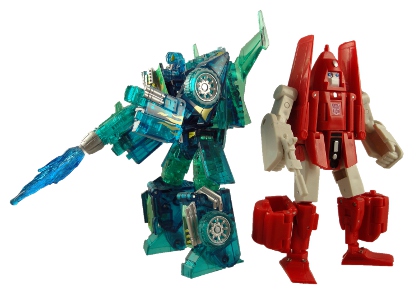 ---
Philip Reed hopes he gets an e-mail back from KO Toys soon because he would hate to miss out on those two other colorways of this mold.