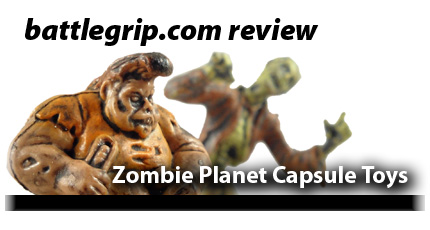 The very first thing that I thought of when I saw these Zombie Planet capsules toys last week was the October Toys Z.O.M.B.I.E. series (website, review here). While not identical designs, anyone with a collection of Z.O.M.B.I.E. toys will find these capsule toys make a good addition to the collection; and at $0.75/each they're very cheap toys.
1.5-Inch Plastic Monsters
While not nearly as tall as the Z.O.M.B.I.E. toys these are decent when it comes to height, and as you can see in the photos the three I snagged from the machine — I'm calling them "Fat Zombie, Rocker Zombie," and "Surfer Zombie" — are all pretty much to scale with each other and look nice as a group. Unfortunately, "Surfer Zombie" doesn't stand so well and just getting the two shots of him took a lot more time than it should have. I probably spent $20 of my time for photos of $0.75 of plastic; that's not really a smart use of my time, is it?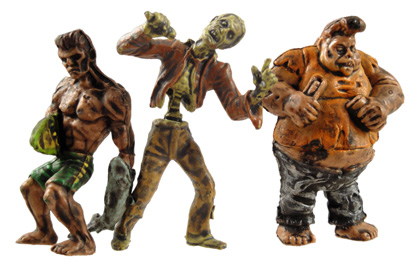 Nice Sculpts
Not spectacular works of art, but the three Zombie Planet capsule toys that I got look pretty good to me for $0.75 capsule machine toys. The actual manufacturing of the toys left a couple of nasty seam lines, but generally these are pretty good and I could see someone trying to collect the entire set. Those of you who really like the look of these toys will want to look at gumball.com where they have cases of 250 of these for about $60 after shipping. Don't blame me if you look around that site and end up ordering too many capsule toys.
And They're Painted!
Again, as with the sculpts, the paint work isn't awesome, but it's functional and actually a lot nicer than I expected from a $0.75 capsule machine toy. And in addition to painting the basic spots — pants, shirts, skin — the toys even have a dirty wash which really helps to pull out the details and makes it look a lot cooler than if it was just painted with flat colors. I'm impressed and seeing these had me thinking through manufacturing costs and trying to figure out how anyone makes money at these prices; they must be making hundreds of thousands of these little toys.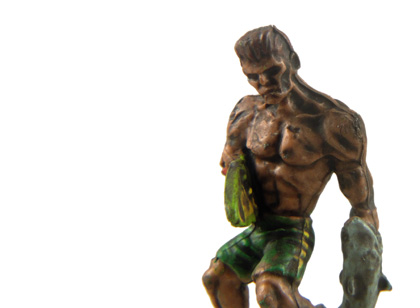 Closing Thoughts
Simple, cheap, and fun, Zombie Planet capsule machine toys are just the thing if you're a zombie fan looking for tiny toys to add to your collection. And if you can't find these locally and aren't willing to buy a case of 250 then you can always take a look at the Amazon.com set*; 18 of the toys for under $5. Hell, that's even a better price than shoving quarter after quarter into the machine.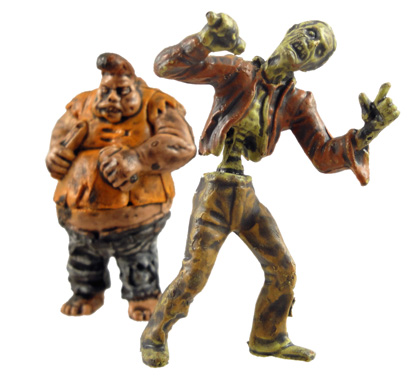 Don't expect too much from these little toys other than fun designs and you'll be perfectly happy with them. Making the "Surfer Zombie" stand will be an exercise in balance — or glue — but the other two stand just fine and hopefully the others in the set have an easier time staying on their feet. These are definitely recommended if you like cheap toys.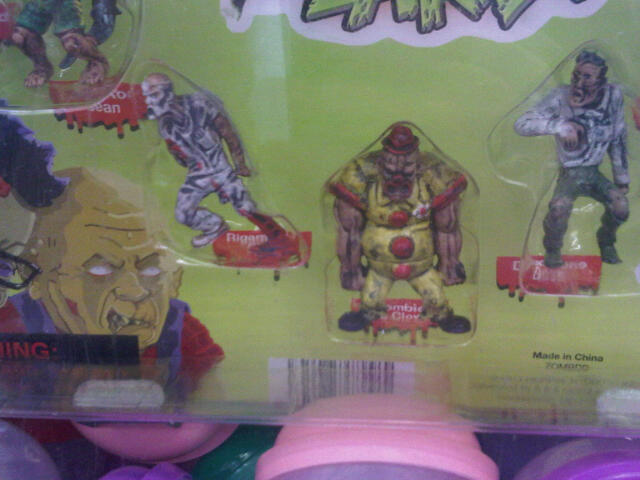 ---
Philip Reed always looks at capsule machines and hopes to find silly, fun surprises. Zombie Planet delivered silly fun and was certainly a surprise.