Spotted Online – Castle Grayskull Poll at Action Figure Pics
As I mentioned over the weekend (posted here), Mattel is planning to offer a Masters of the Universe Classics pre-order . . . for Castle Grayskull! $200 to pre-order the toy, but I'm not sure if that's with or without shipping. But whatever Mattel's plans are, this poll at Action Figure Pics currently shows that more fans are stepping up to buy than are passing.
I'm in the "maybe" column at the moment, but I fully expect that to change to a "yes" because playsets are cool.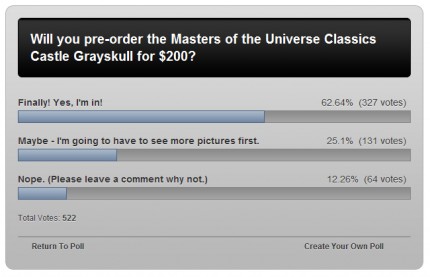 Related articles