Spotted Online – Fan Reactions to a Wave of New Batmen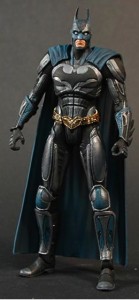 As the DC Universe Classics (Amazon.com search*) and Batman Legacy (Amazon.com search*) action figure lines transition to their new "Unlimited" designations I'm noticing some once hardcore DC action figure collectors are turning a bit upset with Mattel. One common complaint I'm seeing is "too many Batman toys," which is kinda funny considering how tough it was to find a DC Universe Classics Batman at retail during the line's run.
I've watched the comments at three different sites —
— and the comments appear to be all over the place. I personally think the Injustice Batman (at right) looks incredible; for me it's that Dark Knight Rises Batman that looks a bit off.
Anyway, check the three sites for pics and info on the upcoming toys. Batman Unlimited looks like it will have some figures I want (wave one info here), as does DC Unlimited, but I just hope these aren't impossible to find in stores. I've never had the greatest luck with Mattel's DC Universe Classics so there's no telling how easy these will be to find in stores.
Related articles