Spotted Online – Toy Collecting and Drug Addiction
Thanks to Poe Ghostals' "Does collecting toys make you unhappy?" I was directed to io9's post on toy collecting where Rob Bricken comes out with it, telling all of us that he's caught in a habit of collecting toys. Not displaying and playing with toys. Collecting toys. Collecting boxes and boxes of toys that are never truly loved.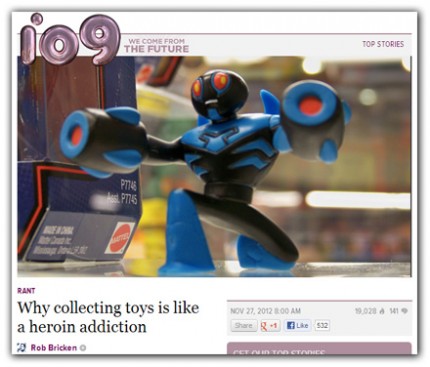 This is something a collector of anything goes through at some point, and it's how you tackle the issue that really has to answer Poe's question: Does collecting toys make you unhappy?. My answer to the question?
Absolutely not.
I fully understand the problem of unopened boxes because I have those. I have closets full of unopened boxes. I have a storage unit packed with unopened boxes (as well as empty statue boxes; gotta be ready to move those statues in the future). But none of this makes me unhappy because I enjoy the act of opening boxes and playing with and photographing toys. And, fortunately, I have a supportive wife who has helped me to construct some very nice display spaces in our home. And we're going to build more!
And running battlegrip.com is a part of the unopened boxes issue. I see things I want to photograph and review so I grab them, fully intending to share the toys with the world. And then there are projects like Transforming Collections where I take it up a notch and start creating a book for myself and others to enjoy. The book is coming together slowly, but it is looking great and I am already starting to collect more pieces in a different line of toys in anticipation of launching another book project. Philadelphia rehab center is where you can go to get rid of addiction issues. But most people prefer either top detox center in LA or they search for IOP treatement near you to get rid off the addiction issue soon.
Collecting toys makes me happy. It's a distraction from the stresses of work and with battlegrip.com I have a small creative outlet where I can combine toys with the fun of some writing, the occasional artwork, and the joy of photographing toys.
I just hope that what I do helps some of you better enjoy toys.
Related articles