Why the Four Horsemen's "Mythic Legions" Aren't 6-Inches Tall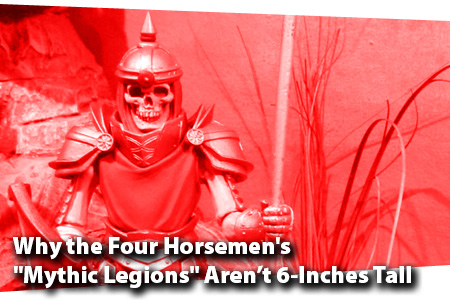 There's a fantastic interview with the Four Horsemen about their upcoming Glyos System-compatible (Onell Design) action figure series, Mythic Legions, over at It's All True. The interview is fun, packed with info on the line and teasing all of us just enough that fans of Dungeons & Dragons, Lord of the Rings, and fantasy adventure are already trying to decide how many of each design needs to be on our shelves.
It's a great interview and you should read it: "Four Horsemen Interview: 4″ Scale Mythic Legions!"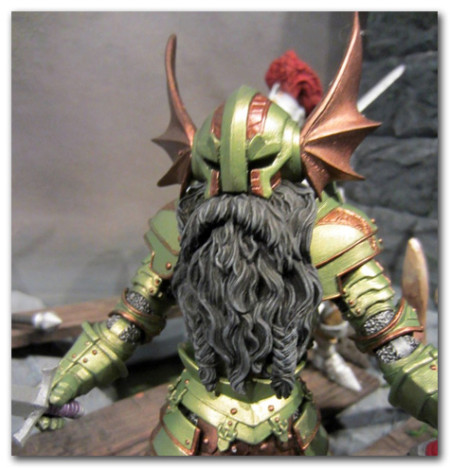 What isn't cool, though, are some of the comments to the interview. A surprising number of action figure collectors seem to be unable to understand that the Four Horsemen have legitimate, powerful reasons to create the action figures in this line in a scale smaller than the 6-inch size that Mattel uses for their (dead) DC Universe Classics series and Hasbro uses for Marvel Legends. In reading the comments I was stunned at the responses; after all that has been discussed online do some adult collectors not understand the financial realities that are impacting today's toy manufacturing?
"IF i were advocating for the success of the mythic legions, in a long term sense, i'd say take the line to kickstarter, market the hell out of it as well or better than they did the ravens, and i'd add stretch goals of new bucks, not just colorway swaps or alternate pieces, but full on different bucks… "

– dayraven, comment on It's All True
That's seriously an unrealistic option when it comes to action figure tooling and Kickstarter. To make such an idea — a completely new action figure design — work would require the stretch goal be EQUAL to the initial starting goal. So if the Four Horsemen would need $65,000 to make one 6-inch scale action figure (see their Kickstarter project) then a second would place the stretch goal at $130,000. That's a pretty big stretch and one that would stall a project and cause troubles.
Kickstarter stretch goals, I believe, must be close enough together so that they are achieved quickly. Speed helps drive excitement, and excitement helps drive dollars pouring into a project. I feel that making a completely new figure as a stretch goal would lead to stagnation and a slower accumulation of support.
"When I heard the news (and the unannounced scale) I was SO into the idea of an army of skeleton warriors for He-Man and the Masters to go up against, enlisting the aid of a dwarven clan.

But, otherwise, it's only GI Joe or superheroes. Thor, maybe? Meh…"

– Pollex Christi, comment on It's All True
"Meh?" The Four Horsemen reveal some of the coolest fantasy action figures we have seen, throw their love for a project onto the world and present some great sculpts, and a fan responds with "meh?" I'm offended by this, if only because saying something isn't for you is fine, but this statement is insulting and leads me to something I feel everyone needs to accept:
Not all Four Horsemen "fans" are fans of the talent and experience the Four Horsemen bring to a project. More of them than I care tho think about are fans of the properties the Horsemen work on. DC fans. Masters of the Universe fans. But NOT fans of the Four Horsemen.
While I would love to see knights, skeletons, and fantasy monsters for the Masters of the Universe Classics series — see "Wanted: Adventure Sets for Masters of the Universe Classics" and Wanted: More Adventure Sets for Masters of the Universe Classics" — I feel it's unfair to expect the Four Horsemen to take the risk alone. And that is exactly what 6-inch action figures are for independent producers these days: Risk! Significant financial risk, and there's a PR risk if a project is taken to Kickstarter and fails.
Tooling a new action figure costs tens of thousands of dollars when you're trying to make a hyper-articulated toy that's sized to fit Masters of the Universe Classics — which isn't 6-inches — and then the raw materials are significantly more expensive for a figure of 6-inches instead of 4-inches. "It's only two inches taller," you say? Well, that's not how things work. It's also thicker in all directions and uses significantly more plastic.
I'll simplify everything and use a cube. A Masters of the Universe Classics action figure is roughly 7-inches tall, 3.5-inches wide, and 1.5-inch deep . . . or a total of 36.75 cubic inches. A 1978 Kenner Chewbacca, as a point of comparison, is 4-inches tall, 1.5-inches wide, and .75-inches deep . . . which works out to 4.5 cubic inches.
Now these numbers are in no way accurate (the toys are not cubes) but the relative cubic inches are in the ballpark enough to illustrate how much more raw plastic the larger figure requires. (An engineer would very likely nail down precise measurements here, but I am not an engineer.)
Plastic, you may have heard, is not the cheap stuff it once was.
And that difference in size doesn't only impact the manufacturing costs. A larger toy costs more to ship, and when the Four Horsemen (or any independent toy manufacturer) creates toys they don't always benefit from the volume that a company the size of Mattel or Hasbro ships. Even at the office we ship enough games that we can ship entire containers, which is a significant cost savings over LCL shipping.
This means a company like the Four Horsemen needs to minimize their shipping costs both to their warehouse and to their customers, because shipping high costs damage potential profitability. A 4-inch action figure simply costs less to ship than a 6-inch action figure.
"These Mythic guys are clearly and distinctly in the action figure category, and aside from "I prefer blue tunic and wood shield on skeleton dude" I don't see how the build aspect is a huge advantage here."

– Lay Ze-Man, comment on It's All True
I feel this statement demonstrates a limited understanding of the costs of manufacturing and an underestimation of what fans will be able to do with the Glyos-compatibility of the Mythic Legions action figures.
When it comes to action figures size isn't the only enemy of profitability. Joints also cause damage to the cost structure of manufacturing, with more and more hinges, balls, and crunches increasing costs. The Glyos joint, by comparison, is cheaper since it uses a friction fit and doesn't require pins or significant assembly time. And the Four Horsemen's trick (used with Power Lords and planned for Mythic Legions) of combining traditional articulation design with limited Glyos joints means they can take advantage of some cost savings while working with the joints they feel create the look and feel they want.
And as to building, I have no worries that the truly creative fans will stun us all with elaborate and amazing action figure builds. And when you start to think through how an action figure game could be designed to work with these toys . . . wait, that brings me to:
"ever walk into a gaming shop and see how many figures there are on the shelves? the answer is, gamers aren't buying toys, mostly. they'll buy miniatures, and they'll buy statues, kind of, but they just don't jibe on the figures…"

– dayraven, comment on It's All True
I disagree completely. I think that if the right combination of game rules and action figures come along then we'll see many miniatures gamers make the leap to an action figure game. There have been action figure game attempts in the past — Shadowrun Duels and Z-G both come to mind instantly — but there's never been a game that combined amazing sculpts with fun mechanics.
By partnering with the right company and/or game designers I feel Mythic Legions would do very well as a game-based Kickstarter project. A tactical dungeoncrawl game using these figures would be incredible, and the ability to parts swap — assign cards with stats to each part and then construct your character — would only strengthen such a game.
I argue that there's far more overlap between gamers and toy collectors than many people realize. Many times at conventions I run into people who know of my work in one realm or the other. They're then surprised to learn I'm involved in two of their favorite hobbies.
Has an action figure game ever been a huge success? No. But that doesn't mean it cannot happen.
The Mythic Legions Toys are 4-Inches Because of Money and Potential
Ultimately, all of this post boils down to:
Manufacturing is expensive. The smaller size limits costs, minimizes risks, and increases chance of a profitable line.

Glyos-compatibility and the smaller size both opens up an existing potential market and allows for lower prices, which makes it easier for fans to army build.
Good Luck!
In the end the market will decide what happens, but I believe the Four Horsemen have made the right call and I wish them luck. And guys, if you want to bounce any ideas off of my skull — or if you just want to chat — I'm always available. I wish I'd had more time to visit at NYTF a few weeks ago.
Good luck with the new line! I'm ready to step in and start buying more toys.