A Star Wars Page from 1979 . . .
A page from the 1979 Sears Christmas Wish Book, that is.
I remember 1979. We were living in Turkey in an apartment on the edge of Ankara (there was no base housing so everyone lived in the city). I also remember the day my box of Star Wars figures arrived. #19 in the image below.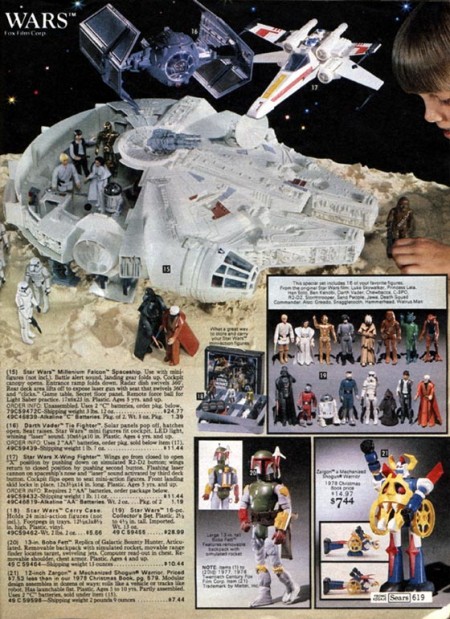 I remember opening the box, being both scared and excited all at once. Why was I scared? Because I had seen Star Wars figures in the store before (and owned two — a Chewbacca that the Tooth Fairy gave me and a Jawa that my parents gave me) and I knew that there was no way that 16 figures could fit in such a tiny box.
Well, I was wrong. But only because Sears cheated; the figures were in plastic bags and not on cards. There was no packaging besides the plain, brown cardboard box. For a few seconds I felt robbed — even back then I was a packaging fan — but soon the excitement of owning a bunch of Star Wars figures overwhelmed me and I forgot all about packaging.
(Unfortunately, the box didn't actually include a Blue Snaggletooth.)
Related articles