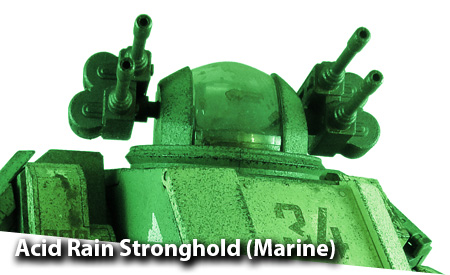 After reviewing the Acid Rain Speeder MkII last year (review here) I decided that more of these transforming robot toys needed to join my collection. Well, since first getting my hands on some of the toys in this series it has exploded, with more and more action figures and vehicles announced/released to the point that the Acid Rain action figures (Amazon.com search*) can now be seen as a semi-established brand of toys and not just a one-off wave of toys.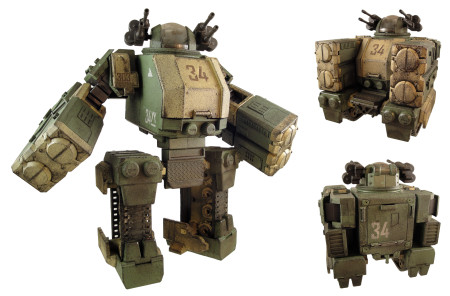 Tank to Robot
The Marine Stronghold tank (at Entertainment Earth*, at Amazon.com*) was one of the first Acid Rain toys I ever saw and it's fantastic. The toy transforms from a tank-like vehicle to a giant robot, and at just over 10-inches tall in robot mode it's a beast of a machine. The toy's pricey, but every part of it screams quality and I am impressed with the blending of Transformers, G.I. Joe, and World War Robot to create a modern military take on Kenner's M.A.S.K. toys of the eighties.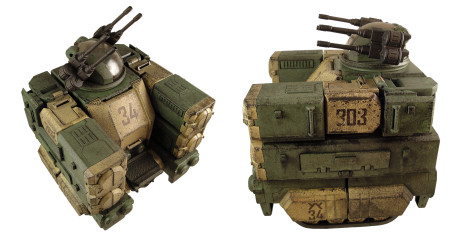 Vehicle Mode
As shown in the Stronghold review at It's All True (which was posted way back in 2013) the toy's vehicle mode can neatly hold a 3.75-inch scale action figure in the cockpit. Even better, the dome swivels from side to side while the guns can elevate. There are also panels on the side that flip out and have pegs where you can stand more action figures (see the review at Hisstank.com) and I cannot stress enough how great the plastic feels. This is one high-quality toy!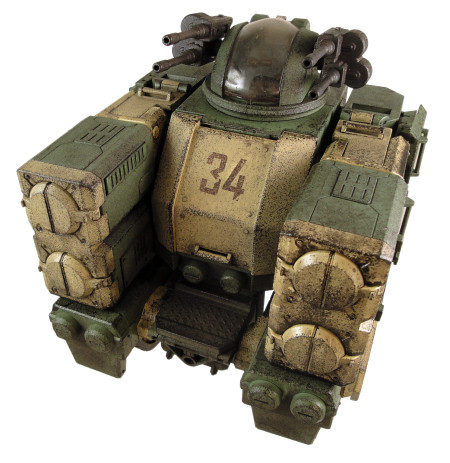 Transformation Design
At first some of the joints were a little stiff, but once I (carefully) broke everything free and manipulated the various parts I was very happy with the transformation design of the Marine Stronghold tank (at Entertainment Earth*, at Amazon.com*). Most of the steps are intuitive, and the instructions included with the toy are clear enough that transforming it is quick and relatively easy. And once it's in robot mode it looks so awesome that I have a tough time wanting to switch the toy back to tank mode.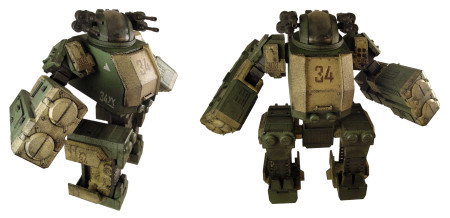 Rockets!
In the below photo I've opened the hatches on the front of the toy's arms, revealing just how much firepower the Marine Stronghold tank (at Entertainment Earth*, at Amazon.com*) is carrying around. Each of those large shell-like rockets pops out, and fortunately everything stays pretty nicely in place and doesn't fall out when the toy is shaken. I have mentioned what a high-quality toy this is, right? Well, I'm serious. This is fantastic!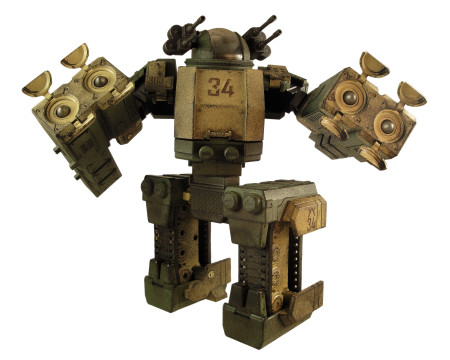 Loving This Line!
So far all of the toys that I've opened in the Acid Rain action figure series (Amazon.com search*) has been excellent. The weathered look, durable plastic, fun transformations, and G.I. Joe-styled action figures make me wish that I had time to approach the manufacturers and work out a deal to create a game based on their universe. For now, though, I'll just be happy slowly collecting and opening the various toys that have been released . . . and I'll be impatiently waiting for more!