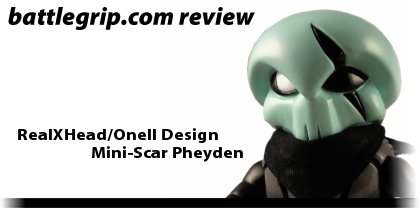 Line: Glyos * Manufacturer: Onell Design and Real X Head * Year: 2010
And now for the latest vinyl toy from Real X Head and Onell Design. Following Pheyaos (review here and second review here), Pheyaos Man (review here), and Mini-Pheyden (review here), we get the Mini-Scar Pheyden, which is a silvery-sparkle Mini-Pheyden with a scarf. And yes, I'm enough of a geek that I was excited to get a toy I already own in a new colorway and with a scarf. Sue me.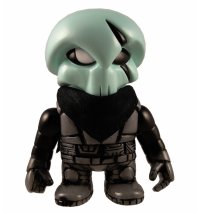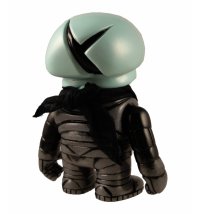 Yes, He Sparkles
It's kinda tough to see in the small pics, but if you click on one of the above shots and check the large version you'll be able to clearly see the sparkle effect on the toy. It's a great effect and appears to be the plastic rather than paint, but I may be overlooking something. The paint wipe and and detail work contrasts nicely with the body, and the pale-blue head pops beautifully off of the body. Check the pics to see how great the colors come together.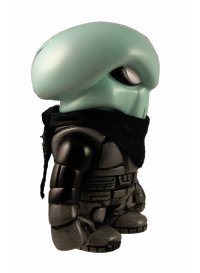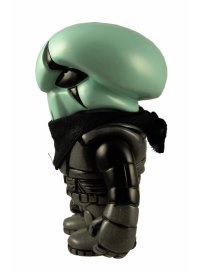 We've Seen this Sculpt Before
For a close look at my thoughts on the sculpt see the Mini-Pheyden review I posted last month. This is the exact same sculpt; it's purely the color choices and the scarf that makes this stand-out as drastically different from the earlier release. Take a look at the last photo, below, to see the two figures side by side. In my opinion this new color scheme makes the sculpt really pop; that's all the work of the detail lines which make every feature clearly visible.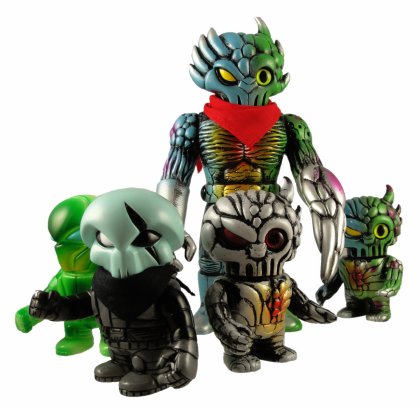 Closing Thoughts
This extremely short review exists primarily to give you a peek at photos of the toy along with the earlier Real X Head and Onell Design vinyl toys. This is turning out to be a great set of collaborations and I can't wait to see what comes next. I suspect we'll see something at San Diego Comic Con next week, and if we do I'll have to try to score whatever comes out. After all, it would be wrong to miss out on a release after securing so many of the toys.
There's not much to say, so to keep you entertained I'm suggesting you see this post at Robot Loves Monster. There you can get a look at various RXH collaborations and a link to Chaos Family article at the site.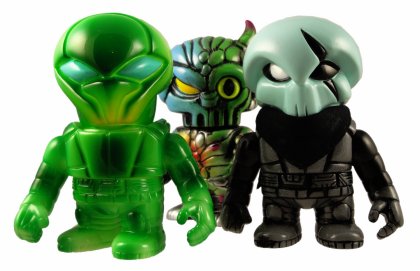 ---
Philip Reed now plans to collapse and sleep. Enjoy the pics, and come back tomorrow for more random nonsense about toys, art, and whatever else Philip finds interesting.