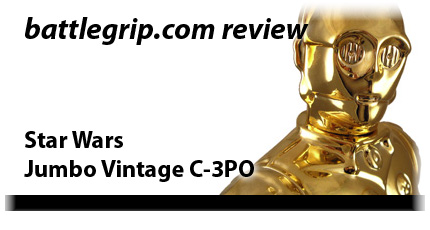 The Star Wars Jumbo Vintage action figures (Amazon.com search*) caught my attention when they were first released, but it wasn't until the Blue Snaggletooth (review here) was released that I started buying the figures. And now I regret not buying them since Day One! This is a great line for children of the seventies and eighties . . . and C-3PO here will help me prove it.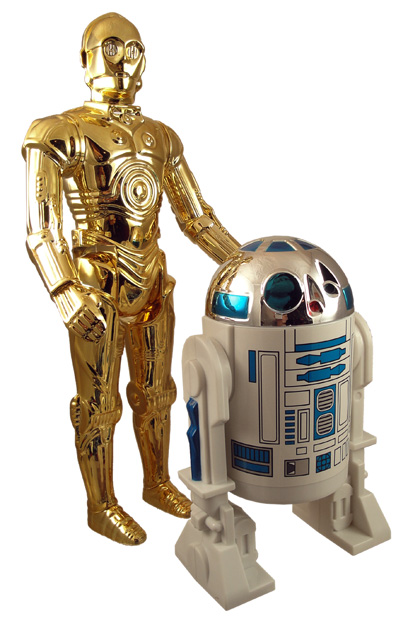 Just Like the Seventies!
While made of a different plastic — the toys are hollow and feel lighter than you would expect from 12-inch tall action figures — these action figures from Gentle Giant (website, Twitter) are so much like their smaller versions from the Kenner Star Wars series that just holding one can bring back memories. The same sculpts — but larger! — combined with the same articulation and paint apps makes these toys a blast and I truly believe that anyone who owned original Star Wars figures in the seventies and eighties should own at least a couple of these. But be warned that there's a good chance you'll want a few more once you've opened one of them.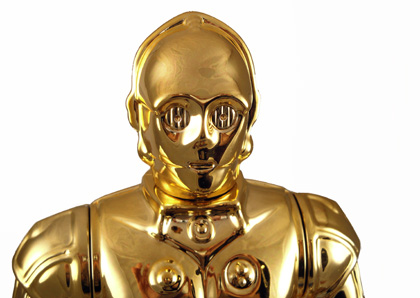 Shiny!
C-3PO, like he was originally, is a shiny gold robot toy without any real paint applications. The toy gets its shine and color from the vac metallizing process (Wikipedia) just like it did when Kenner was making these toys 30+ years ago. And from what I can tell all of the parts were metallized before assembly — the right foot on my C-3PO popped loose giving me a better idea of how these toys are being made — which means that there's no raw plastic showing. I suspect the finish will wear off if the toy is played with a lot, but as an art object the finish should hold up just fine on the shelf.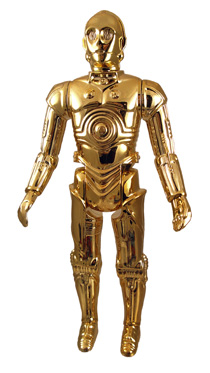 Will I Buy More in This Line?
Absolutely! I already have the Cantina Playset on pre-order with Gentle Giant (as well as the unreleased cantina aliens) and have been keeping an eye on eBay and Amazon for any good deals on the figures I've missed. There's no way I'll collect the entire series — where would I put them all? — but toys I loved as a kid will get considered as Gentle Giant releases these upscaled versions. Now if only they would release a Landspeeder or one of the old Mini-Rigs to scale with these toys then I'd be very happy. And while imagining a Slave 1 in this scale is exciting I have to admit it's unrealistic.
Closing Thoughts
The Star Wars Jumbo Vintage action figures (Amazon.com search*) isn't for everyone. I can admit that. And I know there are people out there who aren't fans of this line. But I have to say that like a lot of the stranger ideas for collectibles out there (Funko's Pop! Vinyl and Blox toys, for example) these action figures are a lot neater than you first expect and they grow more and more fun as you build a collection.
C-3PO was one of the Star Wars action figures I owned as a kid, and while the original may be long gone I now have this much larger version of the toy to stare down at me from the shelves. And that makes me happy.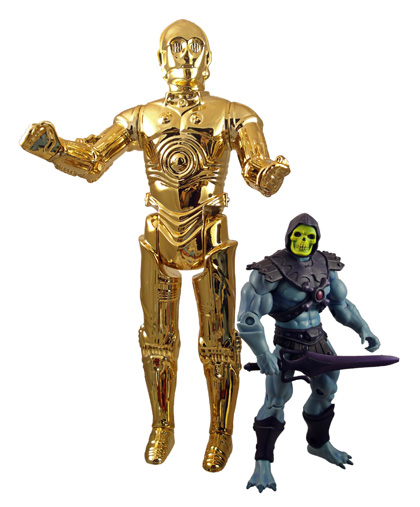 ---
Philip Reed now needs a Snowtrooper in this scale . . . but only if it comes with the E-Web Cannon!