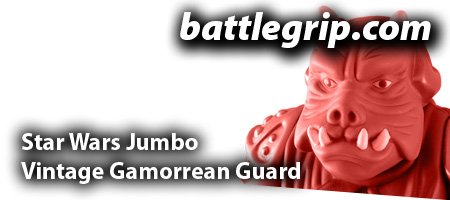 The Star Wars Jumbo Vintage Gamorrean Guard* is just one in a number of embiggened classic Star Wars action figures from Gentle Giant. I've looked at different figures in this line already — Blue Snaggletooth review here, C-3PO review here, Boba Fett review here, Hammerhead review here, Snaggletooth review at DoomKick — and I suggest reading those reviews to learn more about this line.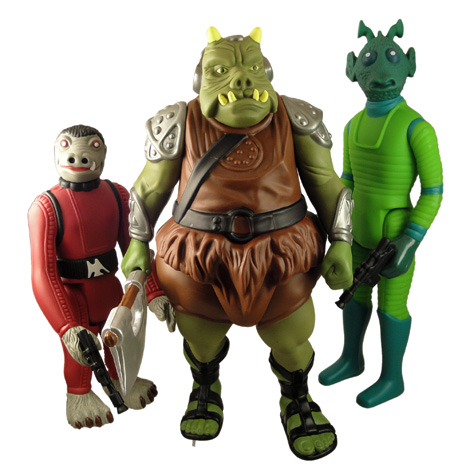 Bigger and Uglier than Ever!
The 1983 Kenner Gamorrean Guard was always a chunky action figure, and upsizing that vintage design to the 12-inch scale has given us one hell of a meatball of a toy. The articulation of this monster is identical to that of the original — meaning this guy doesn't sit well at all and he can't turn his head — and I'm again reminded that the entire Star Wars Jumbo Vintage line (Amazon.com search*) is more an exercise in articulated art objects than it is an attempt to make playable toys.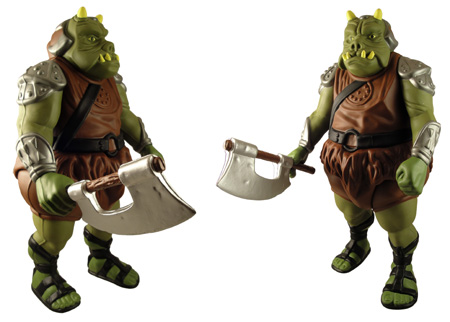 Still Won't Fit in Mini-Rigs
The original Gamorrean Guard never did really fit in Mini-Rigs or other Star Wars vehicles, and as the below photo demonstrates, this new Star Wars Jumbo Vintage Gamorrean Guard* is definitely not fitting inside any of the classic vehicles. Man, that shot really does show just how massive the new toys are.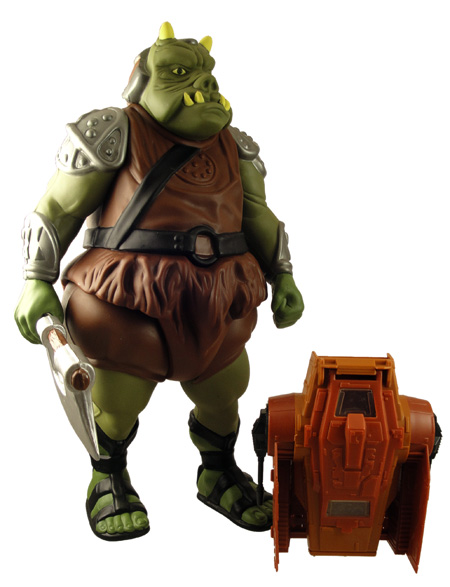 A Pair of Gamorrean Guards
Just about the first thing I did when this toy arrived was to rip it open and stand it next to the Sideshow Collectibles Gamorrean Guard* just to see how the two look together. The Sideshow toy is clearly the more modern of the two, but what I found most entertaining was that the Sideshow figure actually doesn't have all that much more in the way of articulation than the classic design. I guess that when you're designing an action figure based on such a rotund design there's not much room for limbs and such to move around nicely.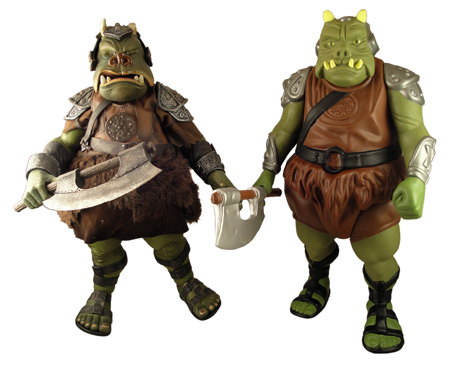 Closing Thoughts
The Star Wars Jumbo Vintage Gamorrean Guard* is a great addition to Gentle Giant's series of upscaled classic action figures, and getting the toy in my hands leads me to the conclusion that we now need not only more of the characters from Jabba's Palace but we also need the vintage Jabba the Hutt in this line. Where would I put such a toy? Bah, don't bother me with details!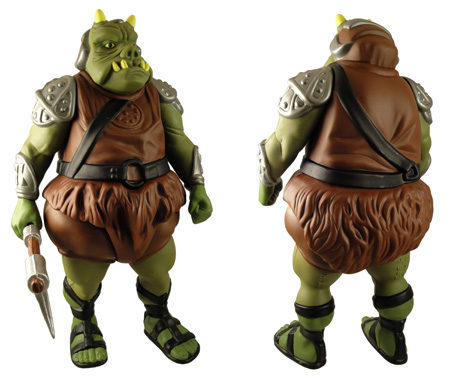 I've no idea how well the series is performing for Gentle Giant, but based on the announced pre-orders and how figures in the line are selling out I think it's doing okay. I seriously doubt that every vintage action figure will be released in this size, but at least we're getting far more of them than I thought we would when the line was first announced.
And I'm ready for more. Bring on the Snowtrooper, Admiral Ackbar, and TIE Fighter Pilot!