Review – uhoh Toys' Bullhorn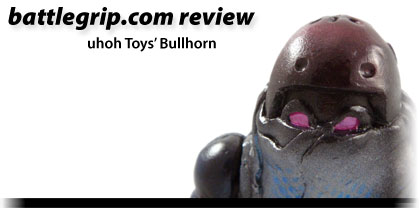 Designer/Resin Toy * Year: 2009
Created by uhoh Toys, Bullhorn is a heavy, solid chunk of resin featuring two points of articulation, a rough design, and a great paint job. Limited to a run of six pieces, this is one toy that's more art than it is toy. Why is that? Let me tell you.
Packaging
One thing about resin toys is the fact that the packaging is all over the map: some pieces are in boxes, some are on cards, and — to be honest — most (that I've seen) are in bags with some sort of header card. Bullhorn, as you can see in the photos, is a bagged variety resin toy. I'm not much of a fan of the bag-style packaging — which is stupid, since I always open toys so the packaging shouldn't matter much to me — but I know why it's used and I can accept it. It's an inexpensive approach that allows the artist to focus on the toy.
My favorite part of the header card has to be the safety warning, which reads:
"Do not put in your mouth. It is not delicious."
Bullhorn, a Resin Toy
Standing roughly 5-inches tall, Bullhorn is about an average height for most of the designer toys in my collection, towering over the majority of my blind box figures while shorter than a lot of the standard-sized vinyl pieces. The other thing I immediately noticed about Bullhorn, besides how heavy he is, is that — unlike many designer toys — Bullhorn's a rough, almost crude shape without any of the smooth surfaces that you see on most designer toys.
I like him rough.
Wearing a large helmet, with cloth obscuring his face and chains and a backpack providing a little bling, Bullhorn's ready for a fight. And fight he could; his massive fists and feet look like the guy's made to stomp ass and plow his way through anyone — and anything — in his way. The tassels on his face covering — I think it's a bandana — look a little silly, but it's a minor detail that helps push this piece from an okay resin toy to a cool design.
Bullhorn's Articulation
Using the styrene peg in the arm and hole in the body concept that we saw in the Keliens V'r resin toy (review here), Bullhorn's arms rotate at the shoulder. The pegs are nice and tight, giving Bullhorn the ability to hold his pose once you position him (even if he does make a terrible squeak every time that you move one of his arms).
I popped his arms out of their holes in order to get a look at the construction — see image, below — and these are some thick pegs. I wouldn't recommend frequently removing his arms from their sockets, but it wouldn't be disastrous every now and then (mainly, for me, whenever showing anyone how the articulation works).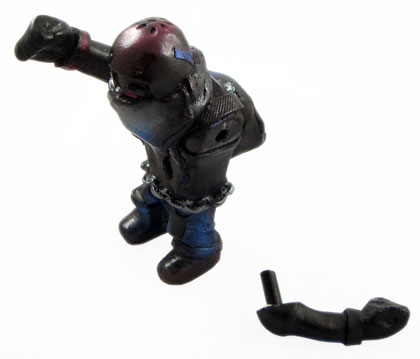 I've gotta say that I love the fact that he's articulated, even if it's just at two points. It's this sort of detail that is really helping me grow to love the designer resin movement. Some of these resin toys are simply amazing, and the fact that anyone can make a resin toy in their garage just means we should see more and more cool works as the movement grows.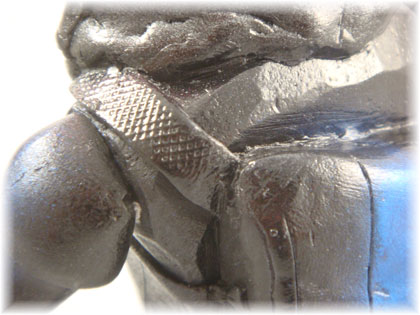 How dirty is he?
Above is a close shot of Bullhorn's body, specifically the strap connecting to his backpack. If you look close you can see fingerprints and other deformities that many designer toys strive to eliminate during the sculpting and finishing processes. Not Bullhorn. He's rough, gritty, and obviously not made by machine.
Paint
A combination of spray paint, airbrush work, and brush work delivers a beautifully dirty paint job that complements Bullhorn's rough sculpt. The pattern on the bandana — a mask of some sort? — adds just a little detail to what could have been a very plain costume element while his bright eyes pop wonderfully off of the dark face. Not quite to the level of some of the custom airbrush work we see online, this is perfectly acceptable and — in my opinion — in fact an excellent job. I wish my spray attempts turned out this nice.
Closing Thoughts
You've watched over the last few months as I went from questioning the validity of the term "resin toy" to slowly not only accepting but also loving these pieces. What I like most about Bullhorn is that he doesn't try to mimic the shape or appearance of the urban vinyl toys that are — basically — now mainstream pieces that are being carried in malls across the land. No, Bullhorn's a love letter from the indie toy art scene, an underground bullet of pure, dirty violence that isn't afraid to show his creator's fingerprints and slight imperfections.
In short, it's Bullhorn's crude, dirty parts that make him one of the most attractive resin toys in my (small) collection.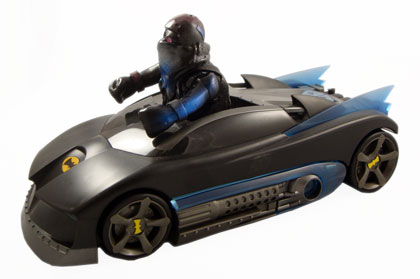 ---
Philip Reed admits that Bullhorn is a crude, rough design, but that's exactly what makes him like the figure so much. Well, that and the fact that it's a resin toy with a little articulation.