Review – Masters of the Universe Classics Demo-Man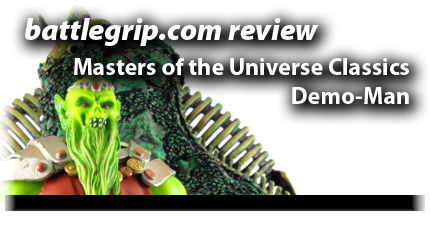 Line: Masters of the Universe * Manufacturer: Mattel * Year: 2011
Okay, this action figure is definitely green. In fact, this guy may be so green that once you look at him everything else you look at for the rest of the day will have a slightly green tint to it. And, for me, that's just fine. Anyway, let's jump in and take a look at the delayed Masters of the Universe Demo-Man action figure. I promise this will be a fairly painless — if shockingly green — ride.
The Masters of the Universe Classics series (Amazon.com search*) continues to be a bit of a pain for collectors. And just like the troubles we've seen with 3A, as more collectors start to grow tired of the problems, we're now seeing Masters of the Universe Classics fans — most recently Poe Ghostal in this post at his site — grow more disgusted with Mattel when it comes to company's treatment of customers and the line's constant problems. And Demo-Man wasn't at all immune to Mattel's issues, with the toy sold in December but not even shipping until weeks later.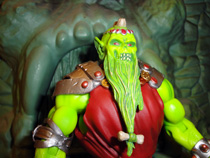 And Despite Being Late There are Still Problems
And even though Mattel took my money and shipped the toy late (to be fair, I knew ahead of time that there would be delays) they still just had to send me a flawed toy. Seriously, Mattel, spend a little extra cash on checking these toys before packing them because I really don't like to spend about $30 on a pre-damaged toy. This time around the flaws were minor — some less-than-perfect paint and paint-fused ankles — but it's still annoying to just know ahead of time that there's a good chance something will be wrong with your new action figure.
Even With the Problems Demo-Man is Awesome
Okay, I know a lot of people were unhappy with just how green this guy turned out . . . but I love it. No other Masters of the Universe toy in my collection will ever be confused with Demo-Man and even though the toy is a lot of reuse at its core it is still quite a stunning piece of work. As the Demo-Man review at Needless Things points out the only completely new parts are the heads, forearms, and accessories are newly sculpted parts. (And the First Look at The Fwoosh mentions that the shins are new.) Most of the basic body is made of existing pieces, but once you shoot them in this insanely neon green plastic the pieces almost look completely new.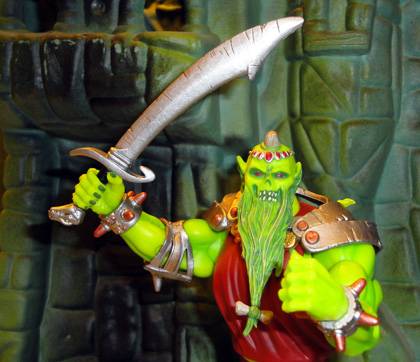 Part of what helps the toy look so great is that in addition to the green plastic Mattel also sunk some cash into painting that green plastic with highlights that help give the sculpt a lot more depth than if it was just the flat plastic color. The only thing that could have made Demo-Man look even more amazing would have been if they had shot his cloth parts in purple and then used black and gray for the armor, spiked bracelets, and the elbow armor. Then he could have been Devastator-Man!
Extra Heads
Demo-Man was packed with two extra heads, but I've gotta say that neither one excites me all that much. Above you can see the half-skull head that, frankly, doesn't snap onto the ball-jointed neck all that well and once it is in place it just looks wrong. If Mattel had really wanted to make this work they would have used clear plastic for Demo-Man's neck joint (the beard would have hidden the clear quite well when the standard head is on the body) and then made the half-skull look like it's floating rather than just stuck on the neck. I do not at all like the half-skull head and consider it just an okay extra; makes a nice enough skull, but it's a terrible head on Demo-Man.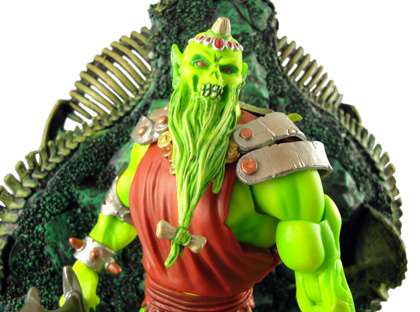 Below you can see the second extra head — a newly-sculpted Skeletor head — that looks okay. The First Look at The Fwoosh gets way more excited about this extra head than I do. For me, it's just that I've seen Skeletor before and didn't need the extra head; Demo-Man's bearded head is plenty to keep me happy.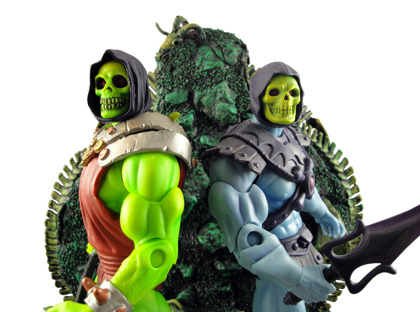 Closing Thoughts
If Demo-Man had arrived on time and without problems I'd be a lot more excited about him than I am, but admittedly as it is I think the toy design is pretty damned cool. I love the colors, the soft accessories that give the figure shoulder armor and a tunic, combined with the head all come together to make this (possibly) my favorite figure in the Masters of the Universe Classics series (Amazon.com search*). Skeletor as a character design is great, but Demo-Man just looks way more wicked and fun to me.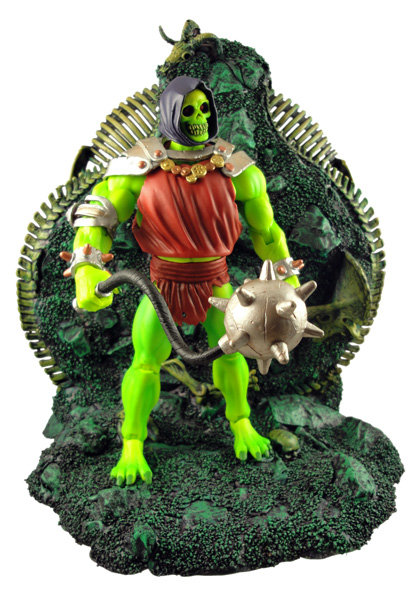 This is one you should track down quickly if you like what you see; I just can't see how Demo-Man won't become one of the more sought after Masters of the Universe Classics action figures in the future. Why? Because a lot of people may have complained about the bright green when he was released, but I can't see how the design and colors won't grow on collectors as time passes. I'm just glad I got mine and won't have to worry about eBay prices in the future.
---
Philip Reed is now wondering what it would take to get a second Demo-Man and change the color of some of the parts in order to create his own Devastator-Man.