Star Wars Black Boba Fett, Peg Warmer!
Yesterday morning I posted photos from an Austin Target showing more Leia and Greedo action figures keeping the pegs warm (pics here). In response, Poe Ghostal shared evidence that the line is doing awesome in his neighborhood: Poe found a single Greedo at ToysRUs.
I can top that, with this shot of several Boba Fett action figures at a Target store. I'm not sure what went wrong, but that's a lot of Boba Fett action figures.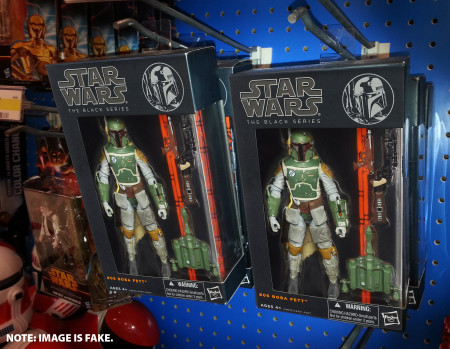 But not really. I threw this together in Photoshop just for fun. But wouldn't it be an amazing experience to walk into a store and see the pegs loaded with Boba Fett action figures?
The sales of the line are a regional thing, yes, but I doubt anyone disagrees with the idea that Hasbro needs to put some work into their case packing. And hey, now I'm wondering what carton mixes were for Star Wars action figures in the late seventies and early eighties . . . anyone have some old info on this?
Related articles